KARACHI: Sindh Education Minister Saeed Ghani has announced that the matriculation and intermediate examinations will start in the province on July 5 and July 26 respectively.
"The candidates will attempt 60 per cent of the examination papers in optional subjects as per the pre-issued syllabus. The duration of examination papers will be two hours instead of three while papers will carry 50 per cent MCQs, 30 per cent short question and 20 per cent detailed questions," he said as he chaired a meeting on Thursday morning.
Ghani said the decision regarding the reopening of primary and middle schools would be taken in consultation with the steering committee members and stakeholders. The meeting discussed arrangements for the annual examinations from ninth till 12th classes. Education officials assured the minister that they would take all possible measures for maintaining transparency in the assessment process. They also discussed how many examination centres were required to hold the board examinations.
The education minister remarked that due to the Covid-19 pandemic last year, the children of all the classes were promoted to the next level without examinations. He added that this would not be the case this year as examinations would be held.
"We want all decisions regarding education in Sindh to be taken after consultation with stakeholders," he said as he discussed the reopening of schools in the province. He said some news being broadcast in the electronic and print media from various sources for the last several days had been creating misunderstanding among children and parents regarding the reopening of schools. He explained that the Sindh government was monitoring the situation and a final decision would be taken in consultation with the steering committee.
The meeting was attended by School Education Secretary Ahmed Bakhsh Narejo, College Education Secretary Khalid Haider Shah, Additional Education Secretary Dr Fauzia, Board of Intermediate Education Karachi Chairman Saeeduddin, Hyderabad Intermediate Board Chairman Muhammad Memon and others.
The Karachi Private Schools Federation (KPSF) has requested Sindh Chief Minister Syed Murad Ali Shah to allow resuming classes of all grades with Covid-19 standard operating procedures
The organisation has also informed the CM that some people have been creating misunderstandings between parents and teachers, so the provincial government should take tangible measures against them.
In his letter, KPSF Chairman Munawar Hameed has tried to draw the attention of the chief executive towards some of the low-fee schools that are unable to cover their monthly expenses as parents are unwilling to pay their children's fees due to minimum educational activities.
He said the controlling authority should play its role in the matter. He also asked the provincial government to announce financial relief for such low-fee schools so that these institutions can be saved from being closed for good.
"We have no other means to get financial resources to run private educational institutions, except fees. The buildings have been rented, and the rent is constantly increasing every year," he said.
"In addition, the education department has issued instructions to pay the salaries of teachers, while we also have to pay the utility bills. There are other expenses to be met as well, and the only way to pay for all of these is to collect fees."
He said that in accordance with the education department's orders, they have given 20 per cent concession in fees to students from April 2020 to September 2020, adding that they are also bound by law to waive off fees of 10 per cent of their students.
"We are complying with the law, but private educational institutions are facing severe financial difficulties due to frequent closures, and in this state of crisis, hundreds of schools have closed," said Hameed. He appealed to the CM to make decisions based on facts and give relief to private schools like other sectors.
You May Also Like
Novak Djokovic claimed a 19th Grand Slam title
Joe Biden on Sunday had tea with Queen Elizabeth II.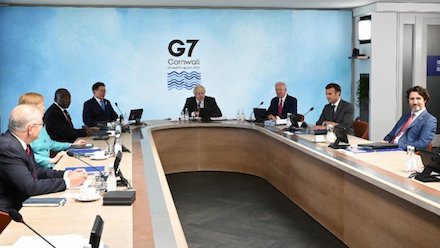 China warned the G7 leaders