Prime Minister Imran Khan says Pakistan Tehrik-i-Insaaf is fighting for the rule of law which would soon meet with success as it is 'a battle for the soul and future of Pakistan'.
In a video message on PTI's 25th Foundation Day, he said all those corrupt elements and cartels that have benefited from the corrupt system are rallied against him.
The Prime Minister said the country is gifted with vast potentials and resources but it would rise when there is rule of law and justice for which they have been constantly waging a war.
He said the country's debt soared by four times during previous governments, the foreign exchange reserves had depleted and the current account deficit was hovering around 20 billion dollars.
The Prime Minister expressed his gratitude to Saudi Arabia, United Arab Emirates and China for providing support in those trying times.
Imran Khan said he feels pride over the two and half years of his government's performance.
He said now the current account is in surplus and the country's reserves are increasing with rupee getting strength.
The Prime Minister further mentioned that construction sector is moving at fast pace, cement sale is soaring, and the large-scale manufacturing and vehicles sale are on the rise.
He said famers are happy for the first time with the government's policies and getting right prices for their yields including wheat and sugarcane.
The Prime Minister informed that, he is going to launch Kissan cards today.
You May Also Like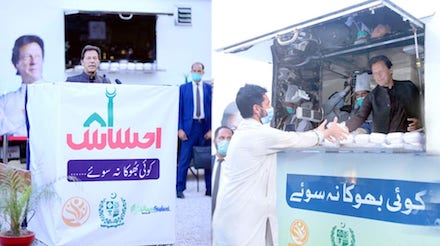 Khyber Pakhtunkhwa government has decided
Saudi Foreign Minister Prince Faisal bin Farhan Al-Saud
Prime Minister Imran Khan and Saudi Crown Prince